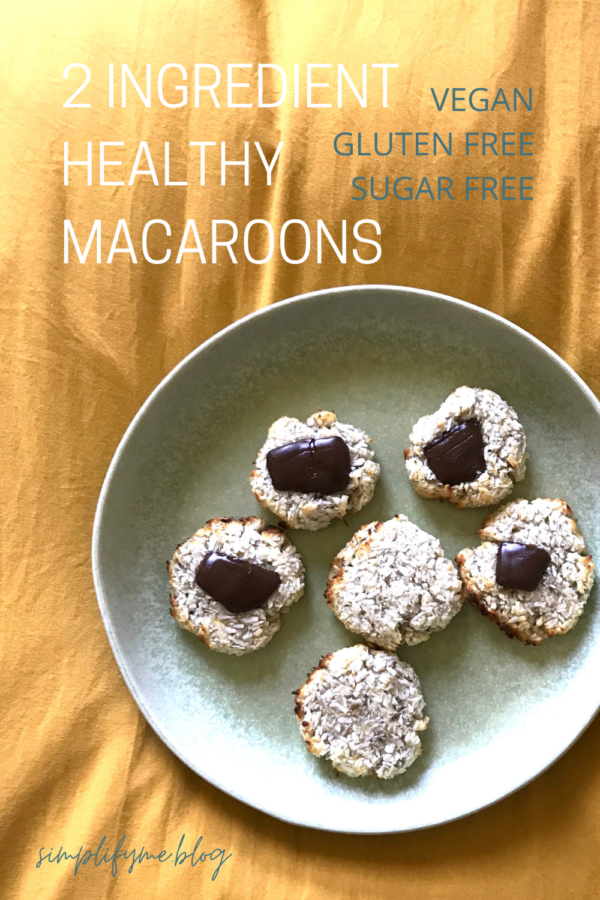 2 INGREDIENT HEALTHY MACAROONS
18 May 2021
it's amazing how creative you get when you have limited resources + are really craving a healthy snack ! but that's how I came up with these macaroons. just one banana + some desiccated coconut – that's all it took. and if you're a chocoholic like myself, nothing quite taste right without chocolate (or cacao), so I broke down some squares into smaller pieces + put them on top.
this post may contain affiliate links, meaning I get a commission if you decide to make a purchase or sign up through my links, at no cost to you. please read my disclaimer for more info.
not only are these macaroons vegan + gluten-free, but they contain no refined sugars, making them better for our blood sugar. when our blood sugar is well balanced throughout the day, so is our energy levels + our mood. the natural sugars from the banana + the fibres from both banana + coconut will support our energy + wellbeing better than any sugary snack.
just make sure to choose very dark chocolate or leave it out altogether, since most chocolates contain tons of sugar.
especially as HSPs + empaths, we know too well how crappy we feel when our energy levels drop too low. we can't possibly predict what external stimulus we will be exposed to at any given time. but we can do something about our internal conditions to prevent ourselves from sinking too low.
if we choose to be meticulous about what food + drinks we consume, we can better take charge of our mood (+ blood sugar) instead of letting it control us.
2 INGREDIENT HEALTHY MACAROONS
gives about 6-7 macaroons
1 medium banana, mashed
3/4 cup desiccated coconut 1
coconut oil, melted (optional)
suggested topping :
squares of dark chocolate, broken into smaller pieces (optional) 2
INSTRUCTIONS :
preheat oven to 180°C / 360°F.

mix mashed banana + desiccated coconut in a bowl until well combined. add melted coconut oil if the mixture gets too dry.

shape into small balls, place on baking paper on a baking tray. then push the balls down gently, using your fingers.
top with small pieces of chocolate (if desired).
bake for 8-10 minutes (depending on thickness). allow macaroons to cool slightly before indulging. enjoy !
NOTES :
the quantity of desiccated coconut will vary according to the size of the banana. just add a little (1/3 cup) at one time + make sure the mixture doesn't get too dry. the banana is supposed to bind everything together, but you can always add coconut oil if necessary.
you can use any chocolate you prefer – the darker, the less sugar. I quite like chocolate with mint flavour in this recipe.

You May Also Like
13 August 2021
4 May 2021